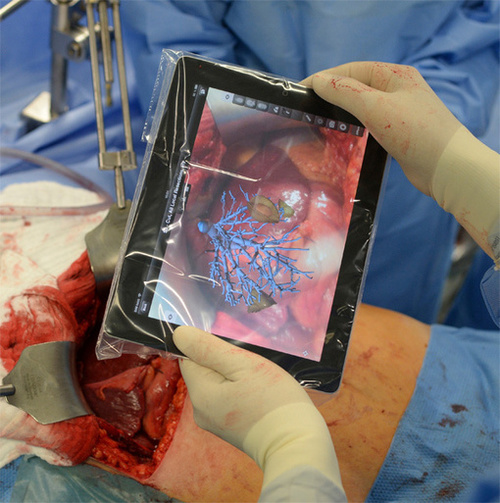 A new iPad app from Fraunhofer Institute for Medical Image Computing MEVIS in Germany is using augmented reality technology to help surgeons excise liver tumors without damaging critical vessels within the organ.
A CT scan is performed before the surgery and the imaged vessels are identified within software, all of which is then transferred to the iPad. During the procedure the surgeon can navigate the imaged liver to see where the vessels are, and if the camera is turned on and pointed at the exposed liver the app automatically superimposes the vessel structure of the organ onto the live picture. Notably, the app is not simply a concept, but was already tested successfully during a liver tumor removal at Asklepios Klinik Barmbek in Hamburg.
Relatris's insight:
As with many of these innovations, this application first has to proof usability in daily routine- but again the creativity of the new tools developed and the pace of their development is highly fascinating.
See on www.medgadget.com